SMMT Urges UK Government to Take Action on £106bn Opportunity
27 Jun 23
The UK automotive sector has called upon all political parties to embrace a set of five pledges that would enhance its competitiveness and unlock a £106 billion opportunity until the end of the next parliamentary term. By committing to a transformative approach to automotive production, instilling confidence in electric vehicles for all drivers, upskilling the workforce, enabling global vehicle sales, and reducing the cost of clean energy, the sector can take the lead in the UK's journey toward achieving net zero emissions.
During the annual International Summit in London, the Society of Motor Manufacturers and Traders (SMMT) introduced "Manifesto 2030: Automotive Growth for a Zero Emission Future." The SMMT urged every political party to acknowledge the sector's strategic significance to the UK and create favorable conditions for a ten-fold increase in annual battery electric vehicle (BEV) production, reaching over 750,000 units per year by 2030. This ambitious goal would result in a cumulative product value of £106 billion at the factory gate.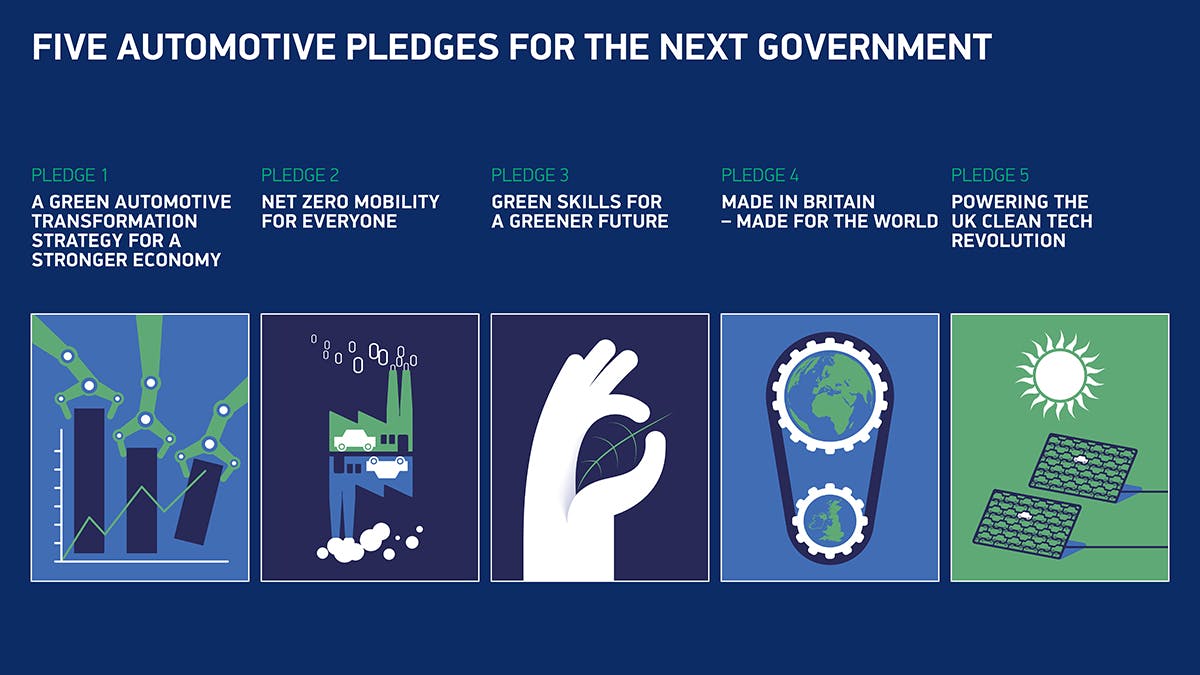 However, realizing such growth hinges on British plants attracting the next generation of electric models and scaling up the emerging EV supply chain, which highlights the importance of maintaining competitiveness in the sector. While the industry continues its post-pandemic recovery, experiencing steady growth in new vehicle registrations, production output, and manufacturing jobs (which increased by 4% to a total of 208,000 jobs in the last year), it faces intense global competition as other countries offer substantial financial incentives and subsidies to attract green manufacturing.
Another significant challenge is the potential impact of tariffs due to stricter local content rules under the UK-EU trade deal, which will come into effect in just six months. If left unaddressed, this situation would place the industry at a disadvantage, rendering British-built electric vehicles uncompetitive in the largest export market while driving up EV prices for British consumers precisely when the UK and EU are striving to accelerate EV adoption.
The industry also faces inflationary pressures, with over 80% of companies surveyed in the SMMT's latest automotive business confidence barometer reporting increased input costs. These rising costs limit profitability and impede investment, despite an upswing in orders and output. Additionally, competitive energy prices are crucial for long-term domestic EV production. More than 90% of firms consider energy price mitigation measures essential for further investment. The UK automotive sector contends with electricity costs that are more than double those of its EU counterparts, compounded by lengthy lead times required to secure necessary new grid connections for renewable investments.
Other important factors identified by the industry include improved trade support, regulatory certainty, and, most importantly, a robust EV market. Lower energy costs, mandated charging infrastructure targets, and financial incentives for buyers were identified as key drivers for fostering a healthy EV market.
Speaking today at the automotive industry's annual Summit, Mike Hawes, SMMT Chief Executive, said,
The government has set the industry tough targets and we are committed to meeting them. But we are in the middle of the most fiercely competitive investment landscape of a generation and need a UK response, urgently, using every policy, every fiscal and regulatory lever, to make Britain the most attractive place to invest. The automotive industry rises to every challenge, so we set out today a challenge to all political parties: back us with the right conditions and we will turn our obligations into opportunities for our industry, for jobs, for the environment and for the UK.
Read more at https://www.smmt.co.uk/2023/06/uk-auto-calls-for-industrial-strategy-to-secure-106-billion-ev-prize/
Check your VehicleScore free